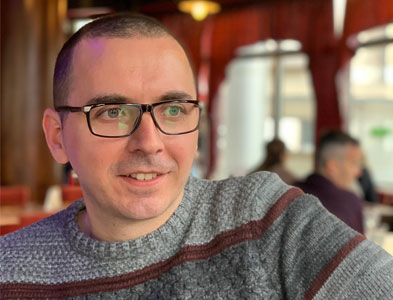 Ivan Blagojević
I was born on the same date as Bilbo and Frodo Baggins. At 22, Bilbo's phase began: "I'm going on an adventure." Key geo points so far: Pepeljevac (22g), Novi Sad (9g), Belgrade (3g)
I am
Husband, father, blogger, SEO writer, happiness manager, web designer, technical support, I can fix when it doesn't work but I can also sell.
I'm working
At Adriahost. I am on the line from the first contact with the client, through the sale and activation of the service, technical support and further development and maintenance of cooperation. I sell web hosting and domains, website development and SEO optimization. I also do technical support for the same things, create WordPress sites and run AdWords campaigns. I write texts on the Adriahost blog and I have written over 80. I make the best instructions in the world.
I love
My family, nature and technology, old stories and movies that lead to other worlds. I love our field under the house where we plant white corn from which we make our proju. I love the plum tree in the hill and Cinderella under our garden. The best things in the world are young cream and hot proja, the security you feel when you see a happy child and the village summer fog in the morning. I love Turkish coffee without sugar and homemade plum brandy.
I can
I can learn, I can work, I can imagine and create. The limit is where I limit myself, accidentally or intentionally. My Toitsudo Ryu Aikido coach said there back in 2002 that one man can do anything that any other man has achieved – but sometimes he has to sweat for it. 16 years later I tried many of my limits, however I realized I was just getting started.
Work experience
I started with active engagement
L2 technical support, monitoring, system administration, from August 2019.
Adriahost DOO
Most of the work is monitoring activities, detecting and troubleshooting servers running CentOS operating systems. Technical support for clients who use our services, sales, activation and adjustment of services.
technical support for CentOS, cPanel, WHM, SSL and related services.
active server monitoring
monitoring the RBL status of the mail server and resolving
VPS server activation and setup: CentOS + cPanel, CentOS, Ubuntu.
cPanel / WHM licensing and license installation, support
Acquired certificates for this position:
cPanel & WHM System Administrator I Certification (CWSA-1)
cPanel & WHM Administrator Certification (CWA)
cPanel Professional Certification (CPP) (CPPCERT)
cPanel & WHM Sales Professional (CPSP)
L1 technical support and sales, February 2016 – August 2019
Adriahost DOO
My job is mostly in selling these services, technical support and writing content for the blog and knowledge base.
presales, sales, follow-up and activation of services
technical support in the field of web hosting and additional services
website development in WordPress
launching and running Google Ads campaigns
writing texts and tutorials
Remote content creator, October 2014 – February 2016
Adriahost DOO
Adriahost deals with: professional web hosting, domain registration, website development, SEO optimization, online advertising, SMS marketing. My job during that period was to write texts for the blog and create technical instructions for the target group of clients.
writing texts on topics: web hosting, cPanel, domains, web design, marketing
video processing and video tutorials in Serbian
Freelance
remote site design and SEO text writing
In my free time and out of work, I also create websites and write texts for SEO preparation. I create sites on the WordPress platform using premium themes and plugins. I have a good experience with the Divi premium theme and generally with themes from Elegant Themes.
Development of WordPress sites and maintenance
Writing texts for SEO and copy