I've been using Time4VPS VPS hosting for quick and easy projects in Europe for the last three years and here are some of my observations and recommendations on why this provider suits me.
I have to say right away that Time4VPS is a great timesaver, you will see why.
The lowest price for VPS hosting in Europe and the world
When I first came into contact with this provider and saw the prices, I thought at first that it was low-quality VPS hosting and that the price was therefore low.
However, I tested, tried all the options and saw that with VPS you get a complete service that you will not find with other providers for free (I will write more about it later).
Okay, okay, I thought the service was good but it would probably go up in price and that it was just a sales pitch. However, the service remained good and the price remained low.
And here I am after three years, still using Time4VPS and recommending this provider to everyone who needs cheap and best VPS hosting in Europe and the world.
What price are we talking about here?
At the moment, at the end of 2022, the prices are as follows:
Starting from 1,99 eur per month for container VPS
From 2,49 eur for KVM Linux VPS
From 5,49 eur for Windows VPS
From 1,99 eur for storage VPS
These are probably the best and lowest prices currently available for this range of services.
These are the prices for the first month or the first year, but even later when it comes time to renew these are still low prices.

I guess Time4VPS wants to incentivize users to buy their services for a longer period of time in this way – and that's totally fine.
What does the path to ordering and starting a server look like?
This is crucial for anyone who needs a VPS server. Time4VPS immediately activates the server after payment and then you have simple options to do what is most necessary.
All the logical needs that every server user needs are here: login details, connect via SSH, reset server password, change hostname, reinstall OS, reboot, cnange DNS server…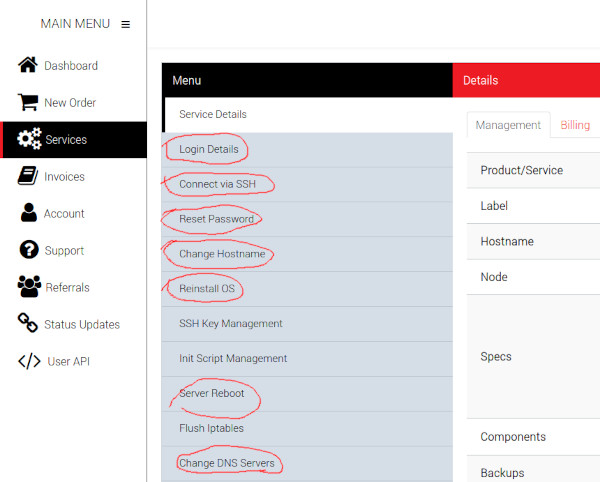 And there are other useful options that you can see right in your account next to the service you're using.
Free DNS management
If you need it and if you don't have your NS parameters, Time4VPS offers its NS parameters that you can use without any problems.
Free for 999 domains to add!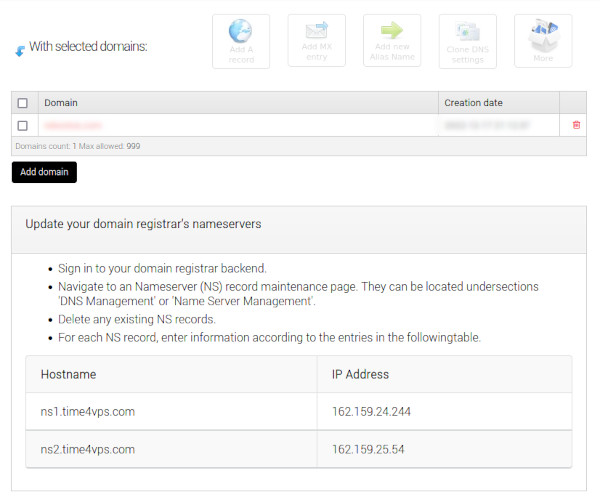 You just need to point the domain to Time4VPS nameservers and then manage all the DNS zones from your account and it's all nicely packaged and transparent.
Simple account and easy to use
Time4VPS must have invested a lot of time to create a client interface that is simple and intuitive.
There are no hidden options, everything is logical and everything is available in one click so you don't have to waste time looking for options or contact their support to find a simple thing.
I have used the services of several hosting providers and many of them have hidden options, endless searches or even some options change place…
What suits me is that I can do everything myself and I don't have to ask for support to reinstall the system or make any changes.
Cheap backup, finally 1 eur/m
Backup should never be expensive because it is a simple service.
Time4VPS is aware of this and offers a backup that costs only 1 euro per month:

Here, everything costs 1 euro extra and is really receptive for every user 🙂
A normal user here cannot resist buying everything that is offered.
Graphs and server utilization by default
You need to monitor the use of resources on the server and what is happening there.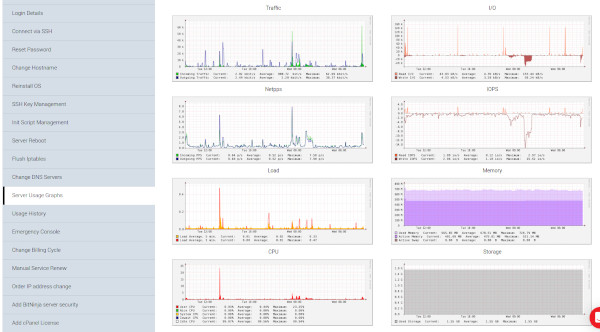 Of course, it's the default and you don't have to set anything up.
With one click you can see what is happening on the server and how things are when it comes to resources.
SSH and Emergency Console in browser – yes
If you happen to overdo your server setup and mess up to the point where you can no longer access your server, it's easy to fix.

There is an option to access from your account in the browser.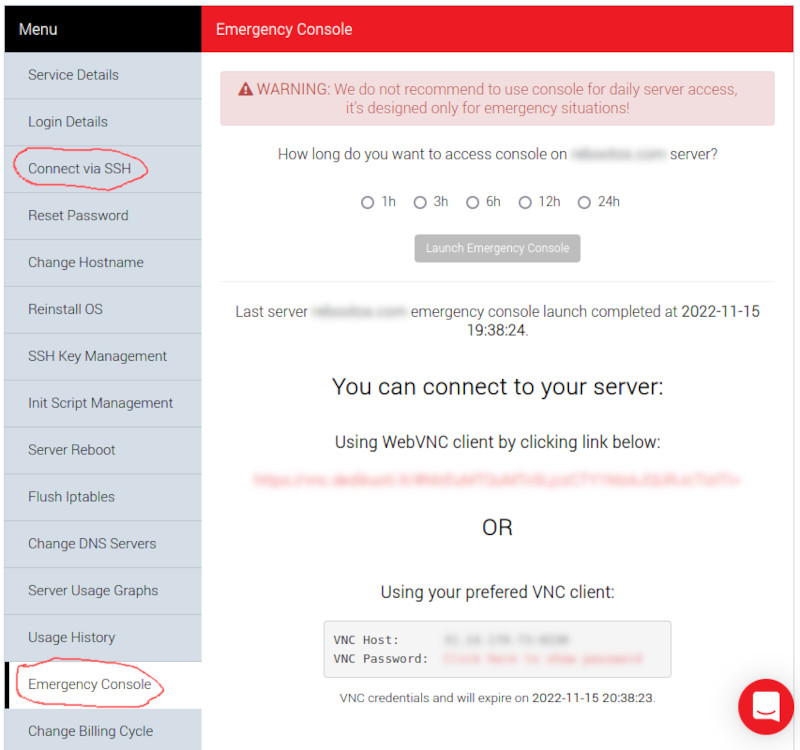 This is probably the most useful option if you exhaust all other options while the big problem is current.
A complete solution for users who know what they need
What I like the most is that Time4VPS allows you to be completely independent and save a lot of time.
If you look at the account, you will surely see that every option is in its place and that nothing is missing.
Low prices and great time savings is what will keep me with this VPS server provider for a long time.
This may not be a solution for beginners but…
Generally speaking, a VPS server is not really a solution for beginners (who are used to cPanel, for example), but regardless, if you are a beginner and want to try a server without cPanel, then Time4VPS is the right solution for you.
You will need to learn something new, read a lot and follow tutorials, but this can pay off a lot.
In the last case, if you don't manage, you can always buy an additional cPanel license later and go back to what you are used to.
My opinion after 3 years of use
I use the services of this provider for several clients successfully. In all this time I have not had a single ticket for technical support and I managed to solve everything myself.
Whether you are a beginner who wants to try it out or you are already an experienced administrator, my recommendation for a VPS provider definitely goes in favor of Time4VPS.