There is an easy way to enable 5G Wifi on your laptop without buying a new card on your old laptop.
The problem with 5G internet is that old network cards don't support it. That is, there are network cards that only support a frequency of up to 2.4 GHz, and to work and use a 5G WiFi network, you need a card that supports a range of up to 5 GHz.
An example of this is my ThinkPad t440p which is a great laptop and I don't plan on replacing it anytime soon.
However, I have 5G WiFi which supports much higher internet speeds than my laptop manages to use (because the network card only works up to 2.4GHz frequency).
Now, I don't want to buy a new laptop because this one works fine.
I don't want to buy a USB WiFi antenna that supports 5G WiFi because I don't want new expenses.
The solution is plain and simple:
My phone supports 5G WiFi
Phone can share internet with computer via USB cable
Problem solved. 🙂
I connected my phone to my laptop and now my phone is acting as a 5G WiFi antenna.
Plus, bonus, extra, the phone battery charges while I'm using the laptop so I don't have to think about charging the battery anymore.
How to use phone as 5G WiFi antenna
It is necessary that the phone supports a 5G WiFi signal.
This is a guide for Android.
Step 1: Connect your phone to 5G WiFi
Once again, you need the phone to support a 5G signal and have a 5G network to connect to.
Step 2: Connect your phone to PC using USB cable
You can use an ordinary USB cable that has served you up until now to charge your phone.
Step 3: Enable USB tethering on your phone
How to enable USB tethering on Android phone:
After connecting the laptop and the phone with a USB cable, go to the phone's Settings
Search for USB Tethering
Enable USB Tethering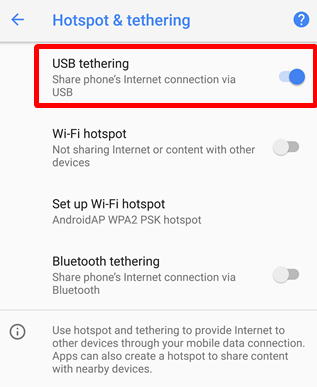 And that is that. Your phone is now receiving the 5G signal and sending it to your computer. The computer behaves as if it were using the Internet via a cable.