MX Codecs installer is a tool for installing restricted deb files on MX Linux. This tool enables the installation of necessary codecs for watching special video formats that are protected or require special codecs.
MX Codecs is already automatically installed with MX Linux and you just need to open this application and click the install button.
If you are sure that you can install these codecs in your country, then just click on the Yes button and all the necessary codecs will be installed: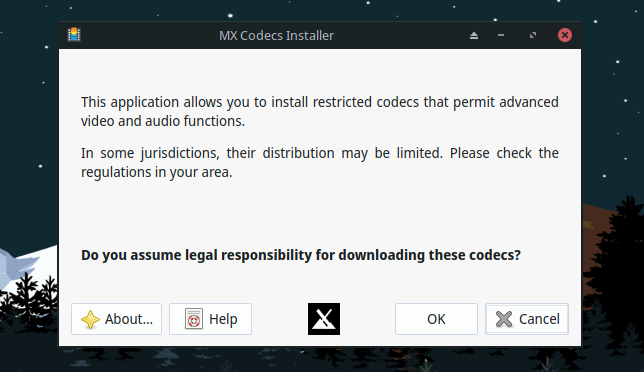 Please note that installation of these codecs may be prohibited in some countries. Before you install, check the details about it.
The MX Codecs installer installs the following packages:
libdvdcss2. Most commercial DVDs are encrypted with CSS (the Content Scramble System), which attempts to restrict the software that can play a DVD. This is a simple library designed for accessing DVDs without having to bother about decryption. Because of the vague threat of prosecution (which has so far never happened), many distros remain hesitant to provide it by default.
w32codecs. These are Win32 executable packages that are required for the decompression of video formats that have no open source alternative. Because actual code from Windows is included, the legality of the Linux package that surrounds them can be considered questionable for some regions such as the United States.
libtxc-dxtn0 "S3" texture packs, important for many games, particular steam games and games produced by Valve, among other developers. both 32 bit and 64 bit versions will be installed on 64 bit systems.