Ubuntu 22.10 fresh start is an article intended for beginners or those who find it easier to follow a certain sequence of settings and installation of new applications.
I have been using Linux operating systems for more than 10 years, and even now I like to read some articles and get new ideas for setting up and installing new applications.
For this tutorial I will be using a freshly installed Ubuntu 22.10 with a minimal installation.
Ubuntu minimal installation is a basic installation of Ubuntu that comes with a desktop environment, browser and basic applications.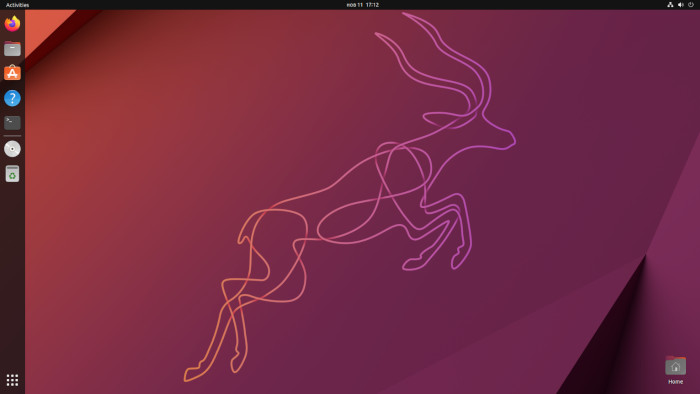 I will start from the basic changes that already exist in the operating system and settings. I won't go into the nitty-gritty details, but just point you in the right direction. You will be the master of your computer, so try to discover all those small and important things yourself.
Change background and style
Right-click on the desktop and select the option to change the background.
This click will open a window where we can change the background and the style of our desktop environment.
Let's change the style there first.
Ubuntu offers the light style by default, but you can also turn on the dark style.
There are also a few other colors that can be dominant in the graphics so it's best to click around and try multiple options. Choose what suits you best.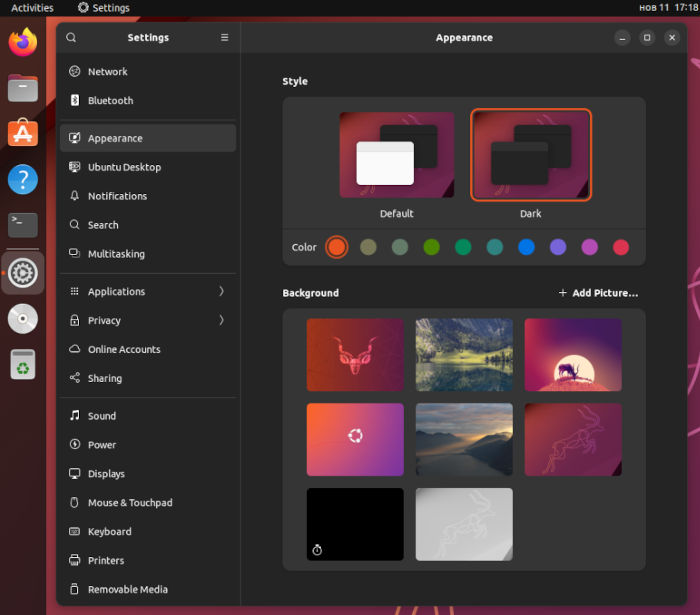 Right below you can choose a new background offered or add a new image and use it as background.
I chose dark mode (more pleasing to my eyes) and one of the default backgrounds (enough for me).
Do not close this window yet.
Adjusting icon size to desktop and dock behavior
Desktop icons Ubuntu 22.10
On the right side there is a panel, and there select the Ubuntu Desktop option.
Right at the top, you can adjust the size of the icons on the home screen. There are several sizes, choose the one that suits you.
You can also choose where new icons will be placed on the screen when you add new files to the desktop or when you create new folders on the desktop.
The default location for the new icons is the lower right corner, and that's what I'm fine with.
Choose whether you want the personal folder to be displayed on the Desktop or not. The personal folder is your user's Home.
Dock – Ubuntu 22.10
Just below that are the Dock settings. The Dock is a panel with icons that by default is on the left side of the screen.
The Auto-hide the Dock option allows the Dock to be hidden automatically until you touch that part of the screen with the mouse. If you have a small screen, this is a good option.
Panel mode is enabled by default. If you turn off this option, the Dock will shrink automatically to a size that depends on the number of icons in the Dock.
The default icon in the Dock is 48. For my eyes, it's a lot, so I always reduce it to about 32-38. Try and adjust.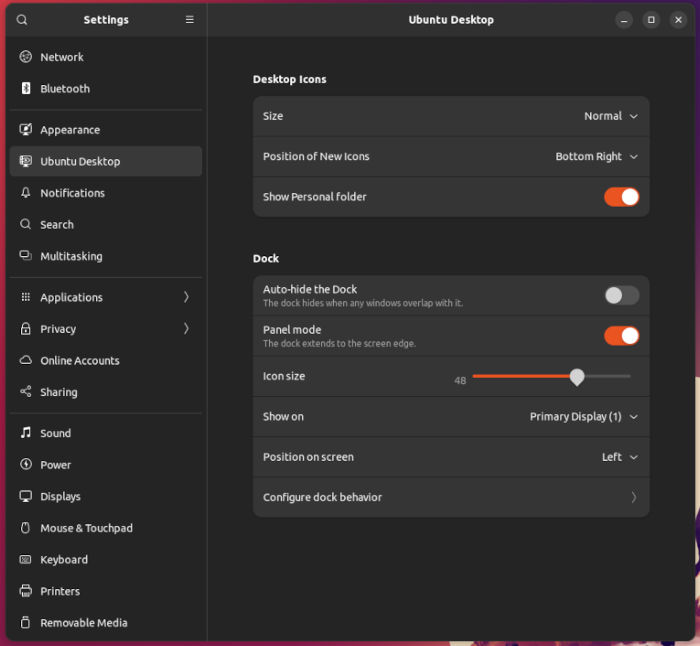 Show on option, allows the Dock to be displayed on one screen or on multiple screens (if you have multiple screens). This is a useful option if your external screen only serves to display certain contents such as video, browser or similar.
Position on screen moves the Dock to the right or to the bottom, or to the left (default). I've tried this a few times and the left side works pretty well for me.
And the last option, Configure Dock behavior, allows Trash to be shown or not, as well as removable devices (USB drive, SD card…) and network devices.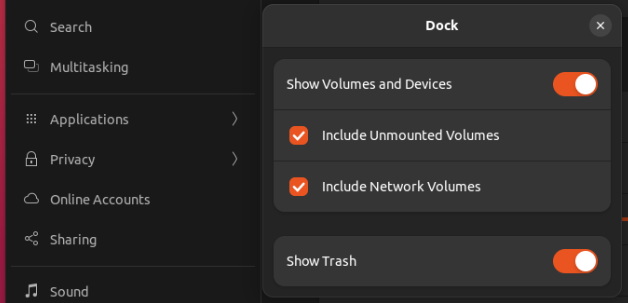 We will continue to stay in this window, we have more useful options.
Notifications in Ubuntu 22.10
Notifications can be extremely annoying and annoying. This is especially important if you have a "Enter happy" colleague.
Here you can turn off notifications for all applications that you don't want to receive notifications for.
Here you can also turn off all notifications completely – Do Not Disturb.
If you want or don't want notifications to be displayed on the lock screen, you can simply turn it on.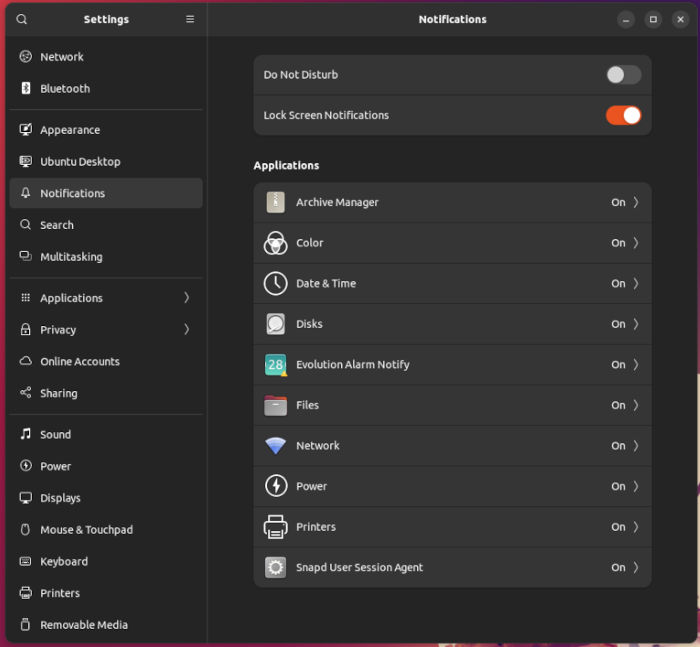 In the list of applications (image above) there are all applications that can send notifications. You can individually set which application can send notifications.
Later, when you install new applications, they will appear in this list, so you can further adjust whether they will send notifications or not.
Screen resolution on Ubuntu 22.10
In case you just got your computer and you are not sure if the resolution is set correctly, check it in this section: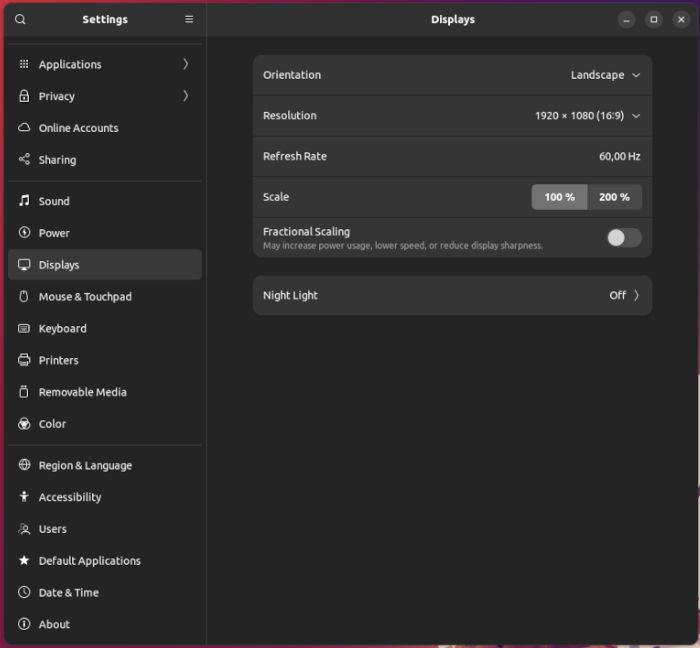 If you are not sure, try a few settings or check your monitor's exact resolution and choose it accordingly.
Ubuntu 22.10 Settings wrapping up
I don't want to drag you into the extra settings here because there are a lot of them, so I've listed these initial settings that will get you into the Ubuntu desktop.
From these examples, you have seen that Ubuntu is easy to set up, so go through the settings one by one and choose what suits you best.
Now let's move on to other things and do something extra.
Install new web browser in Ubuntu 22.10
Ubuntu comes with the Firefox browser by default. Some people like it, some people don't, so if you don't like it, you can install a new browser.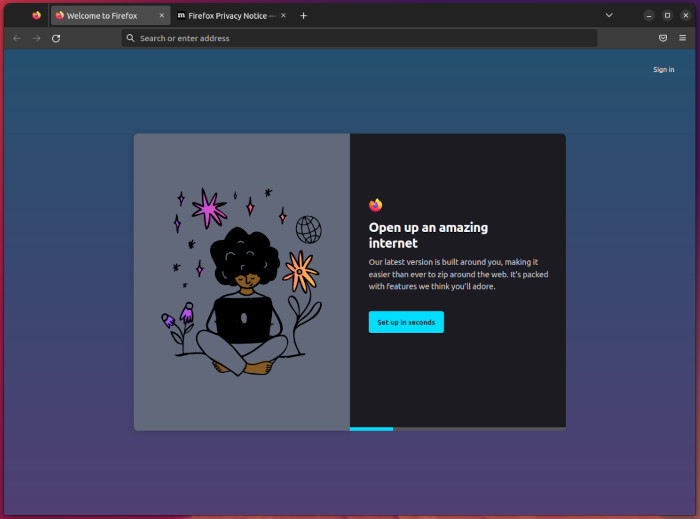 I assume you want to install Google Chrome, in that case go here Download Google Chrome.
Click the Download Chrome option and download the file offered as an option for Ubuntu or Debian:
Save that file in the Downloads folder. Open the Downloads folder and click on the downloaded file to start the installation in the Ubuntu Software, in this application just click the Install button and enter your password when prompted:
Installation is simple and will be completed very quickly. After that, just set up Google Chrome as you like.
Now open the Google Chrome, right click on the icon in the Dock and select Pin to Dash: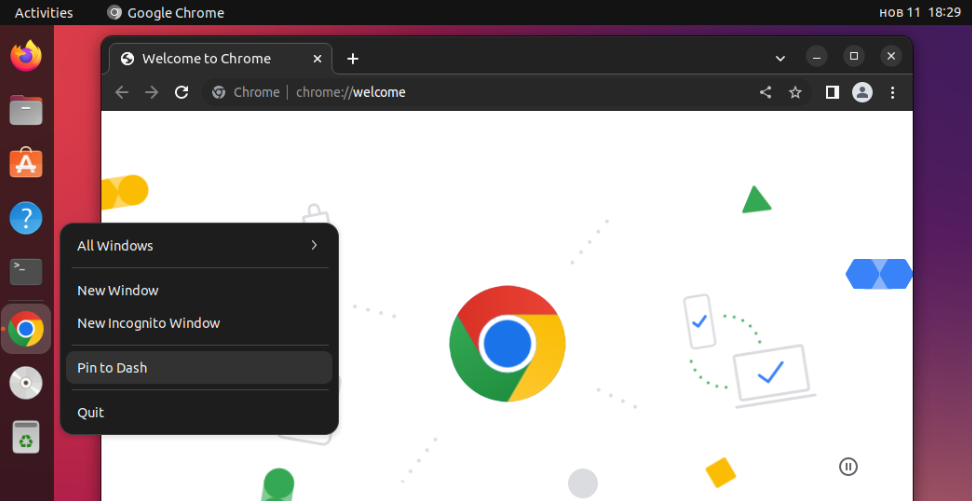 To remove Firefox from the Dock, right click on the Firefox icon and select Unpin.
How to install Slack on Ubuntu 22.10
If you are in an environment and a team that communicates online, you will need the Slack application for Linux.
If you are already familiar with this application or are just hearing about it for the first time, you need to know that this is probably the best application (currently) for chatting and communication between colleagues and teams.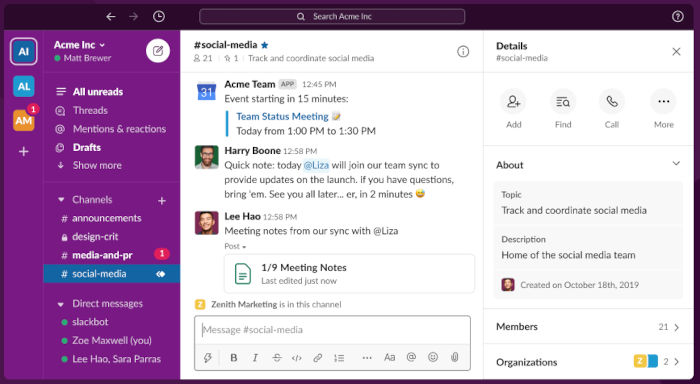 Slack still claims it hasn't upgraded this app to Linux well enough, but it works decently.
To install Slack on Ubuntu 22.10 open the Ubuntu Software and search for "slack":

Click on the search result, then the Install button, enter your password when prompted and we can move on.
After installation, pin Slack to the Dock.
Install Telegram, Whatsapp, Viber on Ubuntu
I will not dwell on each of these applications separately.
In the same way you installed Slack, you can now install Telegram, WhatsApp and Viber.
Some of these applications have an official installation, while some are not official but work properly.
Before you install them, it might be better to check with the company if you are allowed to have these applications on the computer you use for work.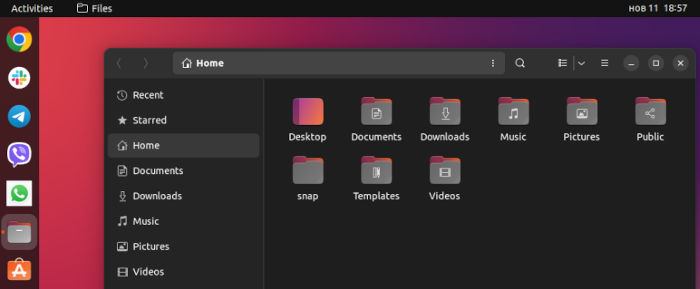 We are done with communication applications and now that we are equipped like this we can move on.
The screenshot tool for Ubuntu is included
This is probably one of the most useful applications and is already installed by default on Ubuntu.
Press the Pring Screen key on your keyboard and the application will launch. It's pretty simple, so just research how to use it. There is no need for me to write you specifically about it.
You can simply select a field on the screen, the entire screen or a selected window that should be included in the image.
Install the best video player for Ubuntu
VLC player is the best for all operating systems. I really haven't seen a better one, and by that I mean a player that can play any video format without causing problems.
To install VLC on Ubuntu open the Terminal and run:
sudo apt install vlc
Press Enter, then type your password and confirm instalation with Y+Enter when promted.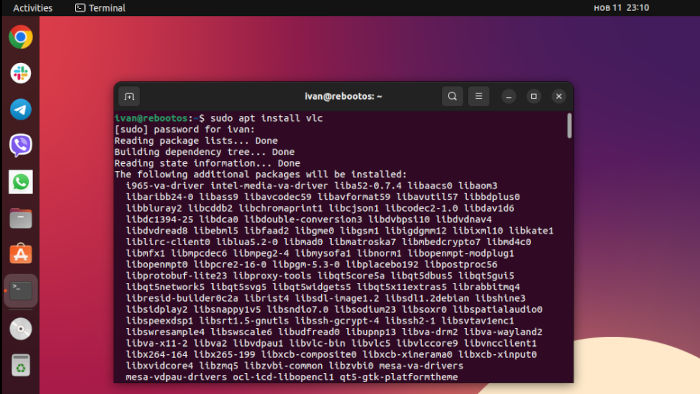 During the installation, you will see a lot of packages being installed, but that's okay. VLC uses many libraries for its work, which is why it can play all video formats. You'll probably never need another video player.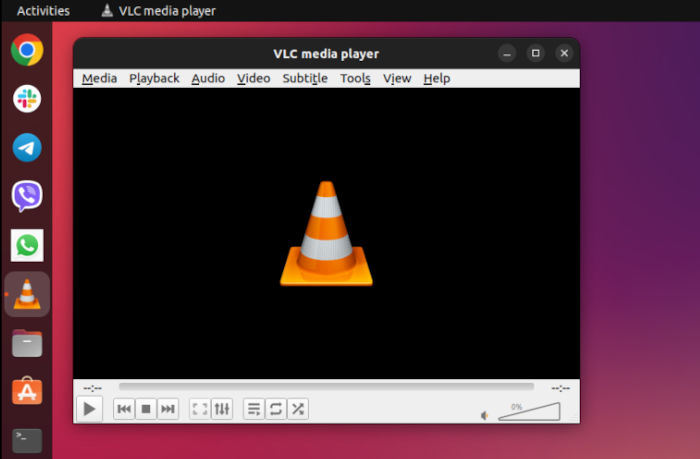 Pin VLC to the Dock and we can move on to setting up Ubuntu.
Installing the Office package for working with text on Ubuntu 22.10
Ubuntu already comes with the Libre Office suite and this suite pretty much changes everything you're used to if you've used the Microsoft Office suite so far.
However, there is another pretty good alternative. It's OnlyOffice.
To install OnlyOffice on Ubuntu go here and download the .deb package for installation: Download OnlyOffice for Ubuntu.
Double-clicking the downloaded .deb package will launch the Ubuntu Software application, you need to click the Install button and enter the password to complete the installation.
OnlyOffice easily creates new and edits existing documents, spreadsheets and presentations: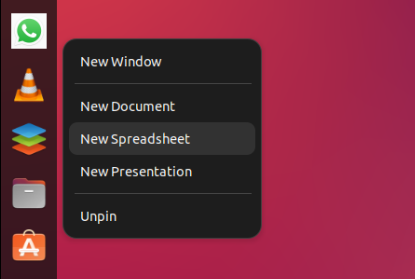 In addition, OnlyOffice also looks quite nice: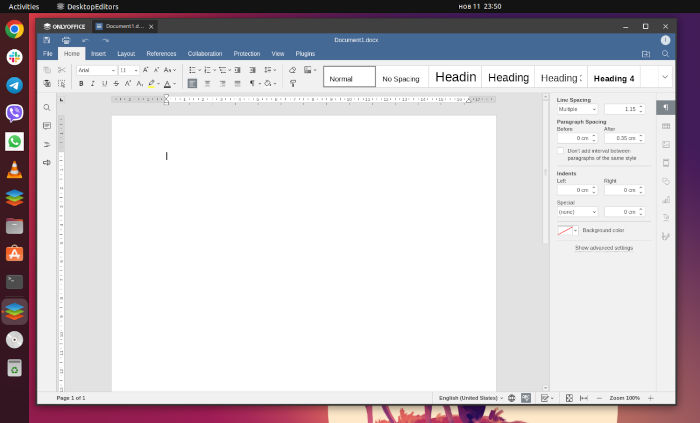 If you are looking for an alternative to LibreOffice and Microsoft Office for Linux, this is the right application for you.
Photo editing application – GIMP
Everyone needs a photo editing app at some point. GIMP is a great application for this job and is most similar to Photoshop (if you may have used Photoshop before).
You can easily install GIMP by opening Terminal, and typing the following command:
sudo apt install gimp
Press Enter and approve the installation of all dependencies with the Y key. Wait for the installation to complete and GIMP is ready.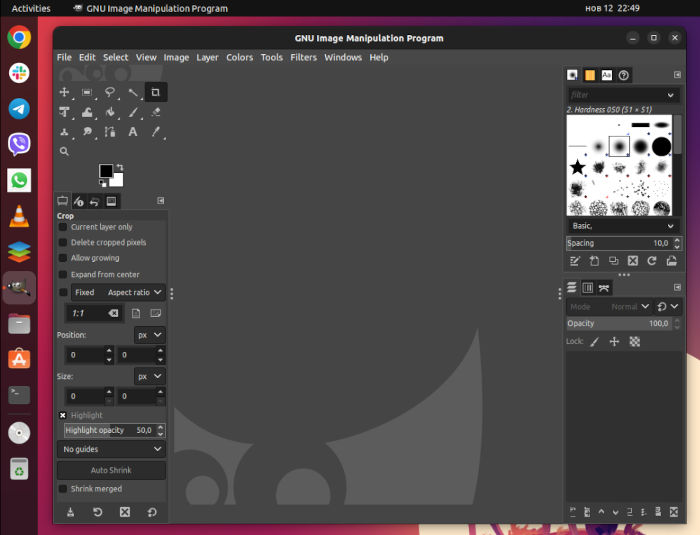 For most basic and advanced photography operations, you'll never need Photoshop again.
GIMP is a free photo editing application and is supported on Linux, Mac and Windows.
If you are a gamer and want to play games on Ubuntu 22.10 – Steam
Steam is a platform that allows you to play all games even on Linux operating systems. Steam is also much more than that, where you can buy or download games for free.
To install Steam on Ubuntu 22.10 open Terminal and type:
sudo add-apt-repository multiverse
Then:
sudo apt update && sudo apt install steam
Wait for the installation to complete and launch Steam. Steam will update on startup, that's fine, so wait for it to finish.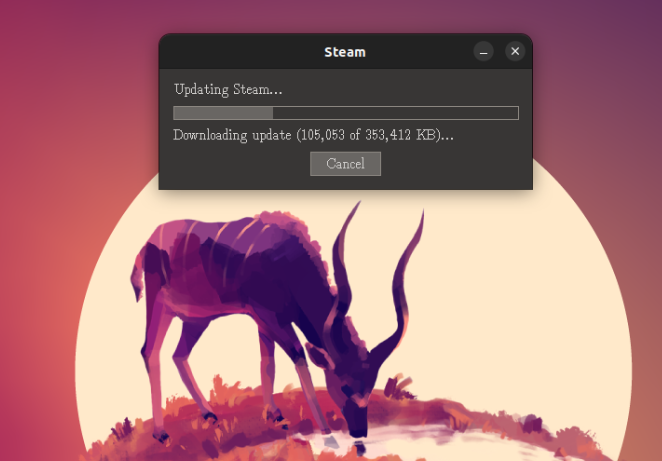 After the update, you will need to register a new Steam account or log in with an existing one (if you may have one).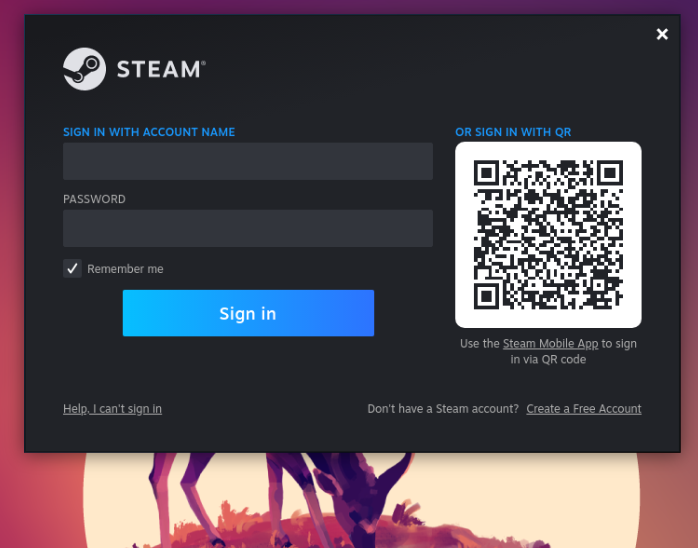 Immediately after that you are ready for gaming.
My idea is to make this a simple guide
Ubuntu is a good operating system and not at all difficult to use. Installing new apps, as well as settings, are simple actions that you can perform just as you would set up your phone (Ubuntu has even become too simple).
With a little time and attention directed in the right direction, you can achieve anything.